I will send out the link each week - you just need to click on it and make sure you have the Zoom App or Website.
I will open the meeting about 10 mins before the class starts - this is so that I can make sure my tech is working - please try and join at least 5 mins before so you can make sure your tech is working!
Once you have logged in, you will be put in a waiting room and I will 'admit' you. Once the class has started, I can't guarantee I will be able to see the messages and allow latecomers in. .
If you are last minute - just settle onto your mat, take a few moments to tune in and then join the practice when you are ready.
When you first come in you will be able to see and hear other participants and they will be able to see and hear you.When the session starts I will mute everybody.
If you can see everyone then you are in Gallery View - I would advise changing this to "active speaker" by clicking on the Gallery Icon.This will put me on full screen and you will have a much better view in order to follow the class.
My computer will be on 'Gallery View' so that I can see everyone - I might make suggestions generally but will not focus on anyone individually.
If you are not comfortable with your camera on, then click on the camera icon so that a line will appear across it.Your camera is now turned off. Please be aware that if your camera is turned off, I will not be able to see you and you will have to take full responsibility for practising safely and listening to your body (please see and read the disclaimer document attached which gives more details about your responsibility for joining an online class).
Make sure you are working on a non-slip mat (yoga or pilates) and that you have sufficient room to reach your arms overhead and to the sides and room to stretch your legs out.
Ideally I would like to see all of you all of the time but I know this isn't always possible when practising at home-lots of people move their phone/ipad/laptop screens during the Practice, as they move from lying to sitting or standing. During the relaxation at the end-please do dim/turn off your lights and even your camera so that you can relax fully.
What you need :
A non slip mat.
Loose comfortable clothing and bare feet
Warm socks ( bare feet for the Practice) and a blanket for relaxation, a small pillow or cushion.
A shawl/ very light covering to go under knees when we are in a kneeling position.
A couple of cushions to sit on/raise the hips in cross legged or kneeling position.
Online Disclaimer:
This class is a Beginner to Intermediate level and is planned to offer a safe and nurturing Practice.It is not suitable for Pregnancy,for anyone who has undergone surgery in the last 6 weeks, or for anyone under 18. Although there are tremendous overall health and wellbeing benefits,Yoga can still be physically challenging and as with any exercise carries risks which cannot be entirely eliminated.This might include the risk of personal injury,or the exacerbation of existing injuries or conditions. If in any doubt please consult your Doctor. The teacher cannot accept any liability for injury or other physical issues from participating in a class
Due to the nature of online teaching,it is impossible for the teacher to see everyone all of the time and so it is essential that you retain full responsibility for your own physical and general well being.
If you prefer to have your camera turned off that is fine but the teacher will not be able to see or advise you on your practice .
The 'Golden Rule' is ' if it doesn't feel right then don't do it'. I encourage you to stop when you need to and be open to alternatives rather than push your body towards pain and discomfort.- we can always chat about concerns before or after the class.
Yoga is a method of self enquiry, pay close attention to how you feel, if your breath feels laboured, if you feel tired or any discomfort - then rest, adjust the posture or stop altogether - don't wait until you feel pain.
As my teacher taught me, " If you only listen to the sounds of your body shouting, you will miss the whispers."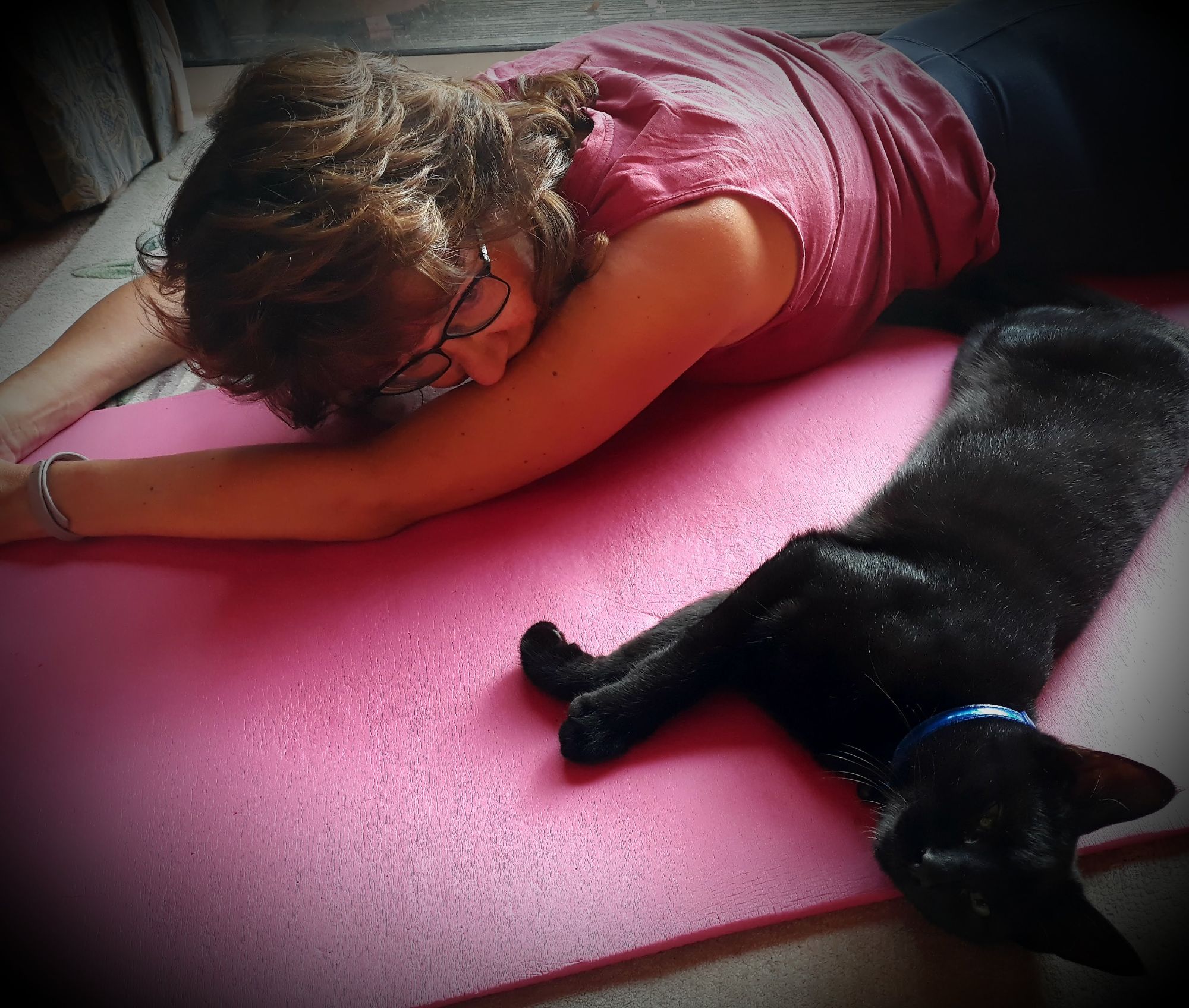 Online Disclaimer (cont.)
Always take care of yourself and you will reap the benefits.Yoga and Qigong are practices which deepen your awareness and understanding of your body and your self. I hope you enjoy every minute.
By accessing and participating in a Calm Soul Yoga class , it confirms that you have read and understood this disclaimer.
Stella Wardale
Calm Soul Yoga and Holistic Therapies